Why Zytexx is the right choice for you!
Read our outstanding testimonials from people who know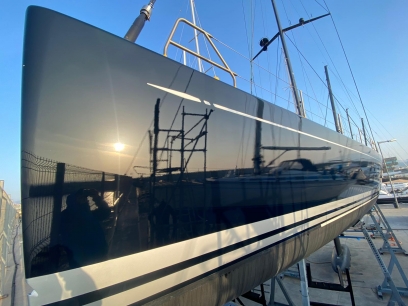 SY Dark Horse
Treatment: PG4400 Hybrid Ceramic Clearcoat
30 March 2022
Our paint condition was as bad as it could possibly be: 10 years old, dark blue colour and extremely thin, making polishing difficult.
Realistically, we needed to do a full re-paint. However due to cost & importantly time constraints this was not feasible. 
After speaking to Michael from Zytexx we decided to go ahead and try to push the lifespan of our paint as much as possible.
Wow, what a difference! It looks almost as though we did a full clearcoat re-spray. Hull looks glossy again & paint is very smooth.
The PG-4400 Hybrid Ceramic Clear coat is very thick compared to standard 'automotive style' ceramic coating, and this greatly increases durability.  Although it's very hard, the coating retains some degree of flexibility which is important, as our hull becomes very hot in summer due to the dark colour. Other coatings we have tried in the past will start to craze due to the heat expansion.
With Zytexx we have had no issues at all, & it's reassuring to know they offer a removal gel if ever required.
Sacha Pace, Captain SY Dark Horse
M/Y ROCK.IT
Treatment: Zytexx Hybrid Ceramic Clearcoat
15 December 2018
We were getting paint quotes for a full repaint of Rock.IT.
At that stage we got in touch with Zytexx to find out more about ceramic application.
After all the positive feeback from Zytexx references we decided to cover the exterior on Rock.IT with Zytexx.
Because of the Zytexx application we would now not have to repaint Rock.IT for at least another two years.
The Zytexx team in FL was led by Ashley Moore. He was a pleasure to work with.  Ashley and his team literally worked day and night to ensure the project got compelted on time.
Stefhan Malherbe, Captain 2
MY Rock.IT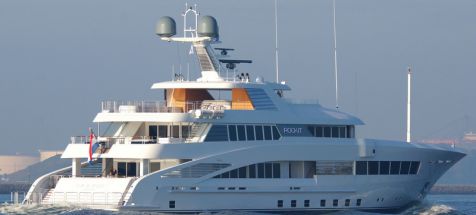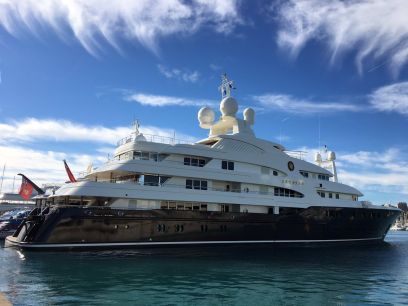 M/Y Sarafsa
Treatment: Zytexx Hybrid Ceramic Clearcoat
5th September 2018
Zytexx has without doubt extended the life of our paintwork to the extent where we have original paint of 11 years old in some areas. Gloss readings were as low as 7 prior to Zytexx and now readings are in the high 80's on this old paint. The Zytexx team are quick and efficient, just give them a cherry picker and leave them to it.
Edward West, Captain
MY Sarafsa
M/Y Lady Kathryn V
Treatment: Zytexx Hybrid Ceramic Clearcoat
12th November 2018
We tried many different coatings after launch in 2011, Zytexx was the only one to deliver what it promised, and we subsequently coated large parts of our Hull and Superstructure. We have now used it for 7 years, both over old and new paint and I cannot recommend Zytexx highly enough.
Neil Reimer, Captain
MY Lady Kathryn V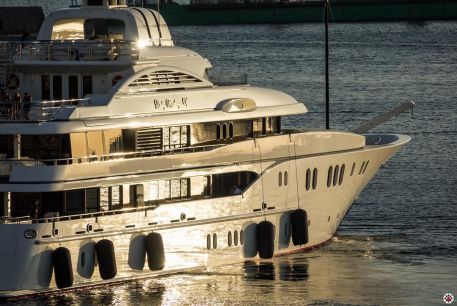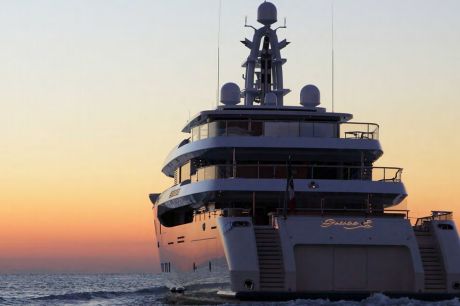 M/Y Grace E
Treatment: Zytexx Hybrid Ceramic Clearcoat
08 March, 2018
Dear Michael,
I'd like to take this opportunity on the sale of Grace E to thank you and your team for the work and product applied to Grace E last year.
We had continual issues with the hull staining after long passages, and being a large area, began to be quite time consuming for the crew to keep on top of keep looking good. The application of ZYTEXX was a eureka moment, suddenly everything became easier, and additionally the hull finish was gleaming.
The buyer of Grace E viewed her less than 48 hrs after arrival in the Caribbean from Gibraltar - had we not had ZYTEXX applied, he may well have been asked to pitch in with a wash down brush to be able to view a clean product.
You have a great product and a loyal team, and I'll look forward to working with you again,
Best regards,
Eddie Cooney, Captain
M/Y Grace E
M/Y BATON ROUGE
Treatment: Zytexx Marine Paint Protection
Zytexx was the perfect answer to a problem that many yachts have, deteriorating paint, downtime and budget constraints. Baton Rouge was in a position where we either missed a valuable season spending time tenting and painting or have a small maintenance period to apply Zytexx and not disrupt the operation of the yacht and its charter potential in any way.

We now have 90% of the yacht coated in Zytexx and the crew, guests and owner could not be happier. It has restored the paint and brought back the shine that guests and owners both demand and love. It was a fraction of the cost in comparison to a repaint and can be applied with great flexibility. The maintenance is very easy with dirt washing off with great ease, cutting down on washing and preparation time before charters.

Michael Pass and the entire team at Zytexx are very helpful with nothing being too much bother. They will always find a way to fit in with the operation of the yacht. Zytexx has saved us a lot of time and money, while giving new life to the paint.
Thanks again to the Zytexx team.



Alex Guy, 1st Officer
MY Baton Rouge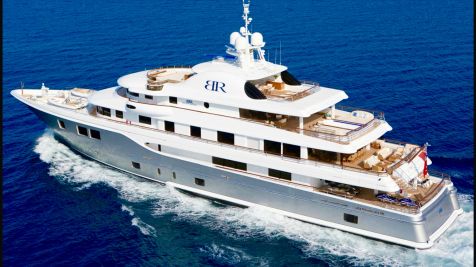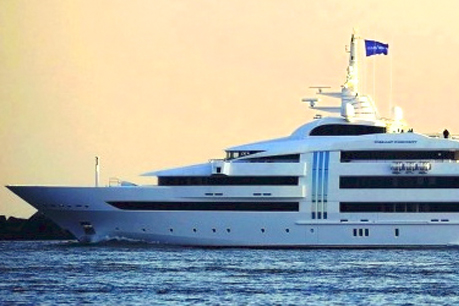 M/Y VIBRANT CURIOSITY
Treatment: ZYTEXX
Dear Zytexx,
This is a short letter of gratitude for the work and support Proguard have shown Vibrant Curiosity since our first test application of the system exactly two years ago.
At that time the Owner was looking at various product options to extend the lifetime of the paint system onboard. As a world traveller Vibrant Curiosity has now sailed just shy of 1000.000NM's since launched 5 years ago.
We subsequently trailed three systems, of which Zytexx proved to give by far the best results after the season.
From this initial trial the Owner has invested in the Zytexx system, which has now been applied to all the yachts exterior vertical surfaces. The Proguard team that polished and applied the ceramic system have always been thorough, professional and courteous.
In the year since its full application we've been extremely please with the high gloss levels. From a maintenance standpoint, its very time efficient to the wash down process, needing minimal effort to keep the yacht in 'as new condition'.
The warrant of two years has proved itself and we'll only need to touch up the wear areas on the yachts hull when required.

Jeff Dunn, Captain
M.Y. Vibrant Curiosity
MY SOLEMAR
Treatment: ZYTEXX
We firstly applied Zytexx to the hull of Solemar with the view to eliminate the exhaust smoke residue produced from the generators and main engines. The application process was quick and effective giving the protection that was needed on top of the paint works. The deck-team have paid homage to the ceramic coating as the hull paint is protected, wash down is less of an ordeal with an additional benefit of also cutting down on time washing.
We have since applied additional ceramic coatings on the bridge deck, bulwark tops and fashion plates to protect against the suns effects and protect against the main engine exhaust emmisions. The coating is doing a fantastic job against all the elements so we look forward to applying Zytexx on further areas as and when required.
A big thanks to the team at Pro-Guard for the great application of the ceramic protective coating Great work!
Nicholas Doyle, Master
MY Solemar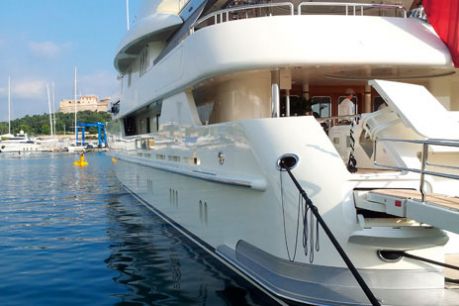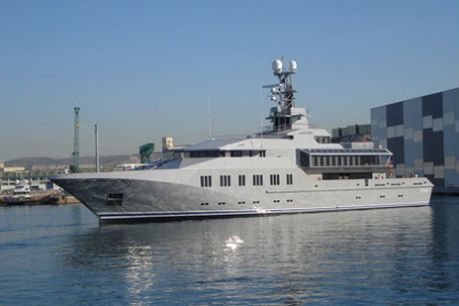 M/Y SKAT
Treatment: ZYTEXX
Michael, Dale and the team at Proguard have performed polishing and ceramic coating of our Alexseal paint on our entire top side, and some part of the superstructure that suffered extensive deterioration from exhaust soot, fender rubs, spills and UV radiation. They managed to successfully polish/cut and recoat all areas which have extended the immediate need for scheduling repainting.
The Proguard Team is very accommodating of our vessels movements in conjunction with pre planning on the vessels behalf. We found Proguard to submit very reasonable quotes and they perform their tasks in a very timely fashion. We found them very friendly and non-intrusive to the work schedule of the vessel and to date have had great pleasure in working with them and look forward to working with them again in the future.
In terms of the quality of ZYTEXX the finish has the same gloss readings as a freshly painted area, is very durable and lasts longer than any other product on the market. Treated surfaces clean extremely well, the use of strong alkaline around the exhaust which causes fading/matting, history by now.
Skat has hired an independent paint surveyor from the commercial marine industry to examine the chemistry of the product to ensure that the use of this product will not cause any disadvantage at future paint jobs, deterioration and reaction with polyurethane top coats used in yachting industry. The professional opinion confirmed that ZYTEXX should not have any negative effect on topcoats used on yachts and treated surfaces will have a neutral property for UV radiation. To use the system in its entirety is cost effective over a period of time especially compared to expensive re-paints and lengthy yard periods in other words you should be able to extend the time frame between repainting substantially. It would be best used on new paint as a final coat.
Great product.

Miklos Karolyir, Chief Mate
MY Skat
M/Y APOISE
Treatment: ZYTEXX
The Lurssen motor yacht Apoise arrived in Gibraltar today = May 20 '11. Last month we had the product ZYTEXX put onto the hull sides of the vessel. At that time the hull paint was in such bad shape from continued generator exhaust problems and exposure that the remaining paint was almost non-existent!
The ZYTEXX crew cut back the paint (and embedded exhaust stains) and applied their product! Hmmmm = every 2 years or so along comes a new fangled, wiz-bang super product that will do everything. Super polymers - xycrone encrusted polish, etc. Never seems to hold up to their claims.
We just finished washing the hull here after a long Atlantic crossing = with fresh water and a light boat soap solution to keep the soft brush head clean! It all rinsed right off = we were bright white, crew that knew the boat thought we had it painted! I'm impressed, the mate loves the stuff.
The deckhands think it's great! Tough crowd to impress. SO - finally, something has come along that actually does work! Last time this happened it was that guy with rubber wheels that said he was going to fill them with air of all things!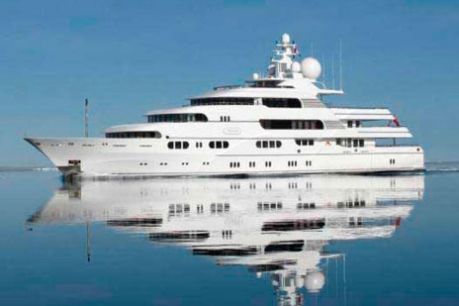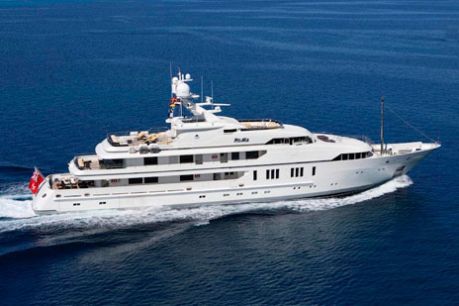 M/Y ROMA
Treatment: ZYTEXX
I have worked with Michael Pass for over 10 years now. I had Proguardplus applied to boats and cars for various years. I had test patch applied to my previous vessel when ZYTEXX was in testing for 12 months. It was amazing to see the difference between ZYTEXX covered area staying pristine white while the rest of the hull was becoming grey and black over time.
We had applied ZYTEXX on MY RoMa last year before the season on the waterline and worst areas on the hull. The result was so amazing that we had most of the hull done this spring.
Zytexx makes you look good, gives the mirror like finish on covered surfaces and endless protection. Deck crew loves the product as it makes it so easy to keep the boat clean.
Now when we see a boat with grey or black stains on the hull we all think THEY DO NEED ZYTEXX and if you are reading this testimonial is because you most probably need it too.
The owner is very impressed and pleased by the improvement of appearance of paint system after application of ZYTEXX on the hull and Proguardplus on superstructure. The build project manager has told me that she looks better now than when she left the yard new in 2010.
I am proud of the way RoMa looks now and it is all thanks to Proguardplus team lead by Michael. Thank you guys and see you this winter for some more work.

Janusz Walinski Captain
MY RoMa
M/Y MARAYA
Treatment: ZYTEXX
Maraya is one of the busiest charter yachts in the world fleet and the nature of this usage loads intense demands on the vessel and its crew. I was not initially convinced that ZYTEXX would provide the levels of performance and longevity that were claimed. However, now that I have seen the product in operation on sections of our topsides for almost twelve months, I have nothing but praise for its performance. The gloss levels have remained high and the cleaning time required to maintain the topsides has reduced dramatically. Without a doubt the product works and the extension to the paint life can only benefit any yacht and its repainting schedules.
Paul Were, Captain
MY Maraya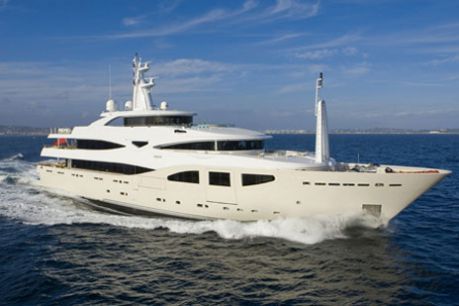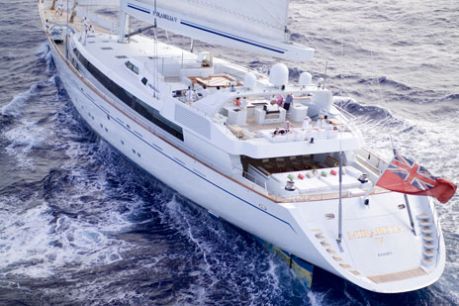 S/Y MIRABELLA V
Treatment: ZYTEXX
I had heard of this new Zytexx product and it interested me greatly as I have smoky diesels due to under loading and our hull was taking a huge toll of soot. Last summer we spent 5 man-hours per day just to keep the hull grey as opposed to black. In Jan we repainted the hull topsides just at the exhausts as they were so bad. But we had just forward of the exhaust bad paint from the downwind sail across the Atlantic crossing and this was still 3 year old paint.
In ST Maarten we Zytexx'd half the hull from the mast aft and below the cove line including the waterlines. Now the hull takes just one swipe of a brush dipped in the water to clean it, and no soap at all. So our 5 man-hours has reduced to 0.5 to just wipe the hull. As this was so successful we just Zytexx'd the stern transom and now this is very easy to clean also. We have only made one mistake, and that was not Zytexx'ing the whole hull.
I am just amazed at how good this product is. It has saved me so many man-hours and also means we can keep the boat cleaner for the Owners.
I welcome emails for confirmation of this product.
Rocka Romcke, Captain
SY Mirabella V
M/Y GFORCE
Treatment: ZYTEXX
Gforce is one of the 37 meter series Heesen Yachts which has a transom door that lowers to water lever and acts both as a launch pad for the tenders and swim platform. Due to the nature of the door's application, it is consistently being affected by the elements and more specifically pollution from the auxiliary engines. In the past, we have had to polish the water line and door after every cruise until this year, when we discovered ProguardPlus's Zytexx!
I am still amazed by the products "magical" properties after a full season! We do not even need to use soap and a simple wipe with a brush or glove returns the surface to its original brilliant finish!
I thoroughly recommend this product which with its relatively simple application technique and effectiveness is definitely worth applying to all yachts with similar transom doors and more! We are now considering extending our use of the products to other parts of the yacht! Please do not hesitate to contact me for any further confirmation of the product.
Jonathan Adeline, Captain
MY Gforce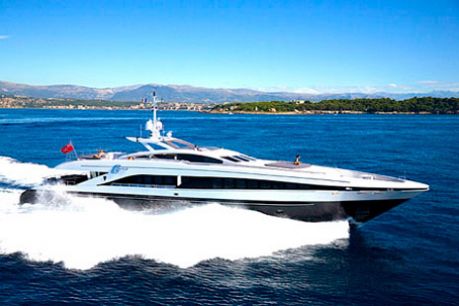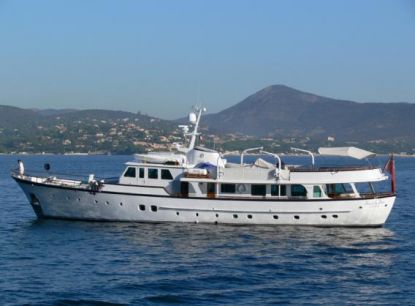 M/Y Heavenly Daze
Treatment: Zytexx
This letter serves to recommend Proguard and their new liquid ceramic treatment ZYTEXX to the marine industry. The M/Y Heavenly Daze is a commercially registered 32 meter classic canoe stern Feadship. She is med based and quite a busy yacht throughout the summer. She has her original Cat D379 engines which are big in volume and bulletproof but unfortunately leave the hull blackened and stained after extended passages. Traditionally the only way to present the yacht to high charter standards was for 3 crew members to finesse the 5 year old awl grip paint on the hull DAILY. This did open the pores of the paint but usual methods were no longer working.
In January 2010 we had Michael from Proguard seal the paint with his original Proguard polymer. We then made a passage from Mallorca to the Genoa charter show where although the cleaning was easier, we still had staining problems. Michael immediately organised a second application before the show under warranty and further promised us an application at the end of the season of his new liquid ceramic product ZYTEXX. True to his word, his team cut back the hull again and applied the Zytexx in Mallorca this April 2011. The paint is probably due for renewal and there are some rust spots under the rub rail that are fully exposed. We went ahead with the application anyway and the gloss on the paint has come up higher than with a new paint application. There are NO visible imperfections in the ceramic. It was applied in water with rollers and tipping.
We have spent the past month cruising around 2500nm including a passage from Mallorca to Croatia. All black marks and soot have since wiped off with one swipe of the broom and there is no greying of the paint. Where we applied the Zytexx directly onto exposed rust, the rust resisted any bleeding for 3 weeks and then when bleed runs did finally start, we were able to wipe them off with a cloth. No more phosphates!
All in all, I can assure you that Michael is onto a winning product that will make all of our lives much easier. I am looking forward to trying the product on other areas of the yacht and equipment.
James Pitman Captain
MY Heavenly Daze