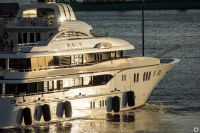 Latest News
MY Lady Kathryn V Tesimonial
Another excellent testimonal! "We tried many different coatings after launch in 2011, Zytexx was the only one to deliver what it promised, and we subsequently coated large parts of our hull and... superstructure. We have now used it for 7 years, both over old and new paint and I cannot recommend Zytexx highly enough. -- Neil Riemer, Capt Lady Kathryn V- 13th November 2018"
Latest News
The New Zytexx brochure is out!
Our new brochure is out, with stunning photos of some of our boats and new testimonials from MY Sarafsa and MY Grace E, grab yourself a copy now!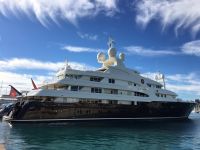 Latest News
Fantastic testimonial from MY Sarafsa
"Zytexx has without doubt extended the life of our paintwork to the extent where we have original paint of 11 years old in some areas. Gloss readings were as low as 7 prior to Zytexx and now rea...dings are in the high 80's on this old paint. The Zytexx team are quick and efficient, just give them a cherry picker and leave them to it". Edward West, Captain, - MY Sarafsa
Latest News
Adam Barnett joins the Zytexx sales team in Antibes, France.
It is with great pleasure that we introduce our new Technical Sales Rep for France and the Mediterranean, Adam Barnett. Adam has been working in the maritime arena for over 20 years and has a wealth o...f experience of working with captains, senior officers and engineers in the yachting world. Adam is passionate about all things to do with the sea, has sailed for many years and was a regular crew member on the yacht racing scene in the UK. He has personally owned many vessels in his time and currently has a Contest 67 classic 50 year old sailing yacht which he has personally restored to almost factory condition. As a former army officer he is an excellent leader, well disciplined and articulate and we look forward to him representing Zytexx in the many ports and harbours of the Western Med.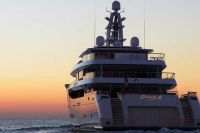 Latest News
Fabulous Grace E Testimonial
Really fabulous testimonial received from the Captain of MY Grace E. Dear Michael, I'd like to take this opportunity on the sale of Grace E to thank you and your team for the work and product ap...plied to Grace E last year. We had continual issues with the hull staining after long passages, and being a large area, began to be quite time consuming for the crew to keep on top of keep looking good. The application of ZYTEXX was a eureka moment, suddenly everything became easier, and additionally the hull finish was gleaming. The buyer of Grace E viewed her less than 48 hrs after arrival in the Caribbean from Gibraltar - had we not had ZYTEXX applied, he may well have been asked to pitch in with a wash down brush to be able to view a clean product. You have a great product and a loyal team, and I'll look forward to working with you again, Best regards, Eddie Cooney, M/Y Grace E
Latest News
When Bigger Really IS Better!
Zytexx introduces our new pricing guide and now the bigger your job, the bigger your discount! Zytexx has always aimed to remain competitive in the marketplace and has been proud of the cost saving...s that can be achieved, certainly as opposed to repainting. Now however, we have decided to kick 2018 off with a bang and have introduced a new scaled pricing structure meaning the more square metres you have done, the cheaper it becomes. Speak to your Zytexx Rep now to see just how much you can save by having increased amounts of your yacht protected, and do yourself, the owner, and your crew a huge favour in 2018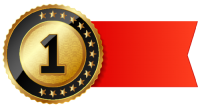 Latest News
Why is Zytexx STILL the number one ceramic clear-coat on the market?
Published: 19th January, 2018 by Zytexx The clear-coat market has certainly seen a lot of growth since Zytexx was launched ten years ago. Whilst we may have been the first into this market, why are ...we still the number one? We've identified some key reasons that we believe have kept us in the top position after so long and thought we'd share! • Our own in-house chemist: re-formulating and continually improving our product, staying ahead of competitors trying to mimic our winning formula. • Our exclusive remover product, meaning that when it's finally time to re-paint, there's no sanding required and no damage to the existing paintwork. • Ten years of PROVEN warranty work; we stand behind our products and our applicators. • Tried, Tested and Trusted by hundreds of yachts worldwide – our repeat customers and growing fan club are our best asset and they keep coming back to Zytexx time and again. It's that simple; Zytexx has the history and has never rested on its (products) laurels. No more proof of this is needed than our latest PG-4400 Hybrid Ceramic Coating (our most advanced ceramic coating to date). Call us to arrange your free test patch and quote now!
Latest News
Damen Sea Axe 67mtr before and after using our PG 4200 Hand Application
Latest News
Amels 55mtr waterline- see the difference Zytexx makes.
Latest News
Mirror like finish on a recent Amels 52 mtr yacht.
Latest News
Full House at the MYS Annual Zytexx Cocktail party at La Rascasse Bar !
Another amazing party at La Rascasse with the Zytexx team and clients. A full house again for the annual Zytexx bash...Thanks again to everyone that turned up and enjoyed a drink with us to celebra...te the last year. Here's to an amazing 2018/19....
Latest News
Mangusta 110, Superstructure using PG4200 Hand Application with stunning results!
Hand Application 3 micron coating giving these fantastic results on our latest Mangusta 110. At 75 euros per m2 incl prep and application, can you really afford not to this season?
Latest News
Zytexx brings out the beauty of another 50 Mtr Sunseeker, just completed with simply stunning results in Olbia
Latest News
Zytexx finishes and Abeking and Rasmussen 45 mtr Yacht in Spain
Fantastic results with our latest project in Spain. Polished to perfection then covered with Zytexx Hybrid Ceramic ClearCoat with a 2 year Warranty. This is a deckies dream! Simple, quick and easy ...washdowns. Happy Crew. Happy Captain. Happy Guests. Happy Owners. Backed up by 10 years of experience and serice that no one else can offer.
Latest News
To Zytexx or not to Zytexx?
When you see pictures like this of before and after Zytexxing, really there is only one choice. 72 mtr superyacht returned to original beauty.
Latest News
72 Mtr Superyacht ecstatic when they see the results of the PG 4400 Hybrid Ceramic ClearCoat
The before and after pics say it all for this beautiful 72 mtr superyacht.
Latest News
The NEXT Generation Ceramic Clearcoats.
After a full season of using our latest generation Hybrid PG4400 Ceramic Clearcoat, the results are out and they are fantastic! This hybrid is proving to be the best we have ever developed!!! With... over 10 years' experience, 3 generations of proprietary 'proven' products and over 180 Super Yachts treated! Zytexx PG-4400 Hybrid Ceramic coating is a super hard clear-coat combining the hardness & stain free properties of advantages of ceramics with the flexibility and weather ability of organic esters. Our hybrid ceramic coating can also be easily and inexpensively repaired with our Ceramic remover gel. • New generation UV stabilizers to maintain gloss. • Superior stain resistance • Better adhesion • Harder & more abrasion resistant • New generation UV filters to protect underlying paint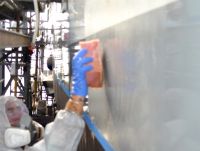 Latest News
Zytexx Removal Gel PG7100 - NO Sanding required.
Our breakthrough Removal Gel PG7100 introduced in 2015 is proving such a hit that even the shipyard paint technicians are now working with the product without a glitch! Zytexx is now easily removed w...ith a simple swipe of a sponge, NO SANDING and leaves the original undamaged paint beneath. Perfect for paint repairs.
We're market leaders in producing innovative marine coatings for super yachts