Latest News
New Sales Rep joins the European team
Zytexx is pleased to announce a new Sales Representative joining their European team. Helen Nolan joins us from Palma de Mallorca. She has worked in the superyacht industry for over 3 years, speciali...sing in sales and marketing. Helen's passionate about her family, friends, cooking, music and career with a genuine love of Motor Yachts. Welcome onboard Helen!
Latest News
Beautiful 62m Feadship
Zytexx Ceramic Clearcoat applied to a beautiful 62m Feadship on her berth in the IYC Antibes. We applied to the aft 1/4 panels, garage door and bulwark flats on the main aft deck. These areas are prob...ably the most high viz on any boat so having our high gloss ceramic clearcoat applied really does give a wow factor for guests as they arrive on board.
Latest News
Monaco Marine yard Antibes
Zytexx Coatings International winter formula removable ceramic clearcoat to this wonderful 111ft Sunseeker International Ltd vessel. Who needs a mirror when you can have this ultra high gloss coating... applied without the need for tenting and scaffolding.
Latest News
136m Fr. Lürssen Werft GmbH & Co.
Zytexx ceramic clearcoat applied to this amazing 136m Fr. Lürssen Werft GmbH & Co. KG megayacht in La Ciotat. The exhaust can get a little smokey and stain the hull, so the Captain decided t...o get our ceramic coating on the port and starboard exhaust boxes, not only does it protect the paint work but also allows for seriously easy clean downs - no more scrubbing away with caustic solutions and of course no more polishing will be needed.
Latest News
Looking forwad to getting back to #Rybovitch
Looking forwad to getting back to #Rybovitch to conduct works on a whole host of vessels waiting for their coating. Last visit we completed M/Y Elixir a 180.45ft /55m Amels 180 motor yacht,
Latest News
Barcelona calling!
Barcelona last year we conducted works on a magnificent and well known 67 meter Support vessel built by Damen Shipyards Group. She carries all the toys, helicopter and tech services that the superyac...ht mother-ship will ever need. Like most vessels soot staining on the hull and dirt around the waterline is always an issue that takes hours of deckhands time to clean, so they opted for a Zytexx Coatings International application to the hull. Her paintwork was fully restored and protected for their crossing and the Caribbean season where they still remain until they can return to the Med!
Latest News
New Facebook page! Zytexx SARL Monaco Monte-Carlo
Our new facebook group is up and running, check us out for all the latest news, pictures and work.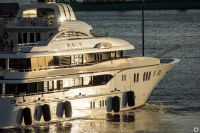 Latest News
MY Lady Kathryn V Tesimonial
Another excellent testimonal! "We tried many different coatings after launch in 2011, Zytexx was the only one to deliver what it promised, and we subsequently coated large parts of our hull and... superstructure. We have now used it for 7 years, both over old and new paint and I cannot recommend Zytexx highly enough. -- Neil Riemer, Capt Lady Kathryn V- 13th November 2018"
Latest News
The Zytexx brochure -
contact us to receive your copy of our brochure with stunning photos of some of our boats and new testimonials from MY Sarafsa and MY Grace E, grab yourself a copy now!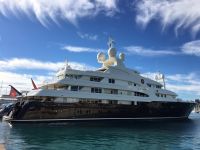 Latest News
Fantastic testimonial from MY Sarafsa
"Zytexx has without doubt extended the life of our paintwork to the extent where we have original paint of 11 years old in some areas. Gloss readings were as low as 7 prior to Zytexx and now rea...dings are in the high 80's on this old paint. The Zytexx team are quick and efficient, just give them a cherry picker and leave them to it". Edward West, Captain, - MY Sarafsa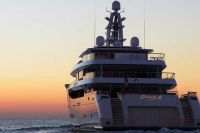 Latest News
Fabulous Grace E Testimonial
Really fabulous testimonial received from the Captain of MY Grace E. Dear Michael, I'd like to take this opportunity on the sale of Grace E to thank you and your team for the work and product ap...plied to Grace E last year. We had continual issues with the hull staining after long passages, and being a large area, began to be quite time consuming for the crew to keep on top of keep looking good. The application of ZYTEXX was a eureka moment, suddenly everything became easier, and additionally the hull finish was gleaming. The buyer of Grace E viewed her less than 48 hrs after arrival in the Caribbean from Gibraltar - had we not had ZYTEXX applied, he may well have been asked to pitch in with a wash down brush to be able to view a clean product. You have a great product and a loyal team, and I'll look forward to working with you again, Best regards, Eddie Cooney, M/Y Grace E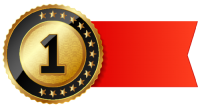 Latest News
Why is Zytexx STILL the number one ceramic clear-coat on the market?
The clear-coat market has certainly seen a lot of growth since Zytexx was launched over ten years ago. Whilst we may have been the first into this market, why are we still the number one? We have ... identified some key reasons that we believe have kept us in the top position after so long and thought we'd share! • Our own in-house chemist: re-formulating and continually improving our product, staying ahead of competitors trying to mimic our winning formula. • Our exclusive remover product, meaning that when it's finally time to re-paint, there's no sanding required and no damage to the existing paintwork. • Ten years of PROVEN warranty work; we stand behind our products and our applicators. • Tried, Tested and Trusted by hundreds of yachts worldwide – our repeat customers and growing fan club are our best asset and they keep coming back to Zytexx time and again. It's that simple; Zytexx has the history and has never rested on its (products) laurels. No more proof of this is needed than our latest PG-4400 Hybrid Ceramic Coating (our most advanced ceramic coating to date). Call us to arrange your free test patch and quote now!
Latest News
Damen Sea Axe 67mtr before and after using our PG 4200 Hand Application
Latest News
Amels 55mtr waterline- see the difference Zytexx makes.
Latest News
Mirror like finish on a recent Amels 52 mtr yacht.
Latest News
Zytexx finishes and Abeking and Rasmussen 45 mtr Yacht in Spain
Fantastic results with our latest project in Spain. Polished to perfection then covered with Zytexx Hybrid Ceramic ClearCoat with a 2 year Warranty. This is a deckies dream! Simple, quick and easy ...washdowns. Happy Crew. Happy Captain. Happy Guests. Happy Owners. Backed up by 10 years of experience and serice that no one else can offer.
Latest News
To Zytexx or not to Zytexx?
When you see pictures like this of before and after Zytexxing, really there is only one choice. 72 mtr superyacht returned to original beauty.
Latest News
72 Mtr Superyacht ecstatic when they see the results of the PG 4400 Hybrid Ceramic ClearCoat
The before and after pics say it all for this beautiful 72 mtr superyacht.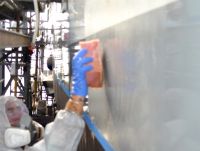 Latest News
Zytexx Removal Gel PG7100 - NO Sanding required.
Our breakthrough Removal Gel PG7100 introduced in 2015 is proving such a hit that even the shipyard paint technicians are now working with the product without a glitch! Zytexx is now easily removed w...ith a simple swipe of a sponge, NO SANDING and leaves the original undamaged paint beneath. Perfect for paint repairs.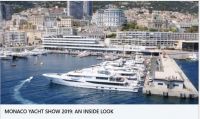 Latest News
Michael Pass talks about the importance of the Monaco Yacht Show within the Marine Industry
Based in Monaco with representation in Europe, USA and the Caribbean, Zytexx is renowned for receiving glowing testimonials for their service and ceramic protective coatings from superyachts such as M.../Y Sarafsa, M/Y Grace E and M/Y Lady Kathryn V, just to mention a few. Michael Pass, Director of Zytexx, concurs that the Monaco Yacht Show is a superb strategic business facilitator for the superyacht sector. "The show attracts all key players within the marine industry who are essential to our company, including shipyards, technical staff and superyachts. There are excellent opportunities during the week to highlight the benefits of our industry-leading proprietary Zytexx Ceramic ClearCoats." The allure of the greatest vessels in the world is what sets the show apart making it second to none. During the Monaco Yacht Show there's always ample time for socialising and relaxed networking with over 100 private events held over the 4 days. "Every year we host our ever expanding annual Zytexx MYS cocktail party at La Rascasse," continues Michael. "It's our chance to show our appreciation and thanks to clients, Captains and industry partners – and it's a great opportunity to wind down and relax during an intense week!"
Market Leaders in Developing Proprietary, Innovative Marine Coatings for Super Yachts