Latest News
Stunning results!
Hand Application 3 micron coating giving these fantastic results on our latest Mangusta 110. At 75 euros per m2 incl prep and application, can you really afford not to this season?
Latest News
Harry Windsor joins Zytexx International Ltd in Monaco and the South of France.
Zytexx International Ltd is delighted to announce Harry Windsor joins our team in Monaco and The South of France as the new Strategic Business Manager. Harry joins Zytexx having held senior technical ...positions in Hill Robinson, Fraser Yachts and Rosemont Yacht Management. Harry's Naval Architecture background combined with almost 20 years of practical experience within the construction and refitting of yachts makes him well-placed to provide expert advice and support to Zytexx clients. He will take on the new role of Strategic Business Manager for Zytexx Worldwide Operations with the particular strategic role in developing new partnerships with Shipyards, Yacht Management Agencies and Senior Executives. Zytexx continues to expand throughout the world in partnership with the Marine Industry's Superyacht Leaders in their field. February 2017
Latest News
Yachtwerft Meyer becomes official agent for Zytexx International Ltd in Germany.
Zytexx International Ltd is very proud to announce their joint partnership with Yachtwerft Meyer, Bremen, who is now their official agent in Germany. Michael Pass, Director of Zytexx said "We ...at Zytexx are thrilled to be working with Yachtwerft Meyer: a company that has been established in Germany since 1981 and is known for its high standards, quality, professionalism and excellent reputation and we are delighted to welcome Jan Meyer and his team to represent us in the very important German market". Yachtwerft Meyer is well known within the superyacht industry as a premium manufacturer and refit specialist of superyacht tenders and composite parts. Yachtwerft Meyer can now offer a complete service: from quotation, to the finished application for the entire range of Zytexx products to the German speaking market. "We know the Zytexx products and have experienced first-hand the advantages they provide. Our team has already been trained by Zytexx experts, and we are looking forward to providing the first class service we are known for, to all Zytexx customers in the German speaking market" said Jan Meyer, owner and managing director of the company. Zytexx continues to expand throughout the world in partnership with the Marine Industry's Superyacht Leaders in their field. February 2017
Latest News
Zytexx brings out the beauty of another 50 Mtr Sunseeker, just completed with simply stunning results in Olbia
Latest News
Zytexx finishes an Abeking and Rasmussen 45 mtr Yacht in Spain
Fantastic results with our latest project in Spain. Polished to perfection then covered with Zytexx Hybrid Ceramic ClearCoat with a 2 year Warranty. This is a deckies dream! Simple, quick and easy ...washdowns. Happy Crew. Happy Captain. Happy Guests. Happy Owners. Backed up by 10 years of experience and serice that no one else can offer.
Latest News
To Zytexx or not to Zytexx?
When you see pictures like this of before and after Zytexxing, really there is only one answer. 72 mtr superyacht returned to original beauty.
Latest News
72 Mtr Superyacht ecstatic when they see the results of the PG 4400 Hybrid Ceramic ClearCoat
The before and after pics say it all for this beautiful 72 mtr superyacht.
Latest News
Zytexx launches our brand NEW Zytexx H2O Ceramic ClearCoat specifically for Jacuzzis and Pools in partnership with Feadship's latest flagship, MY Symphony.
We are delighted to launch our brand NEW Zytexx H2O Ceramic ClearCoat specifically for Jacuzzis and Pools in partnership with Feadship's latest flagship, MY Symphony. As many know, keeping jacu...zzis and pools absolutely spotless is a challenge especially on busy charter yachts. Guests expect perfection and Zytexx H2O enables superyachts to now provide that without the need for daily polishing. Zytexx H2O combines all the very latest advances in ceramic technology, created by our scientists, in our labs, for our clients. Zytexx continues to be the world leader in innovation and creativity in providing real solutions to the marine industry.
Latest News
Zytexx launch new H2O Clearcoat for Jacuzzis & Pools at MYS 2016
Developed to solve a persistent problem for superyachts, our brand new innovation developed in the Zytexx laboratories: responding to the needs of the marine industry. Staining due to copper piping, ...suncream and other factors that leave the beautiful guest jacuzzi or pool with unsightly brown stains is now a thing of the past with our brand new, taylor made product for this problem area.
Latest News
MYS 2016 Party Images
Full house at La Rascasse Bar!
Latest News
Zytexx is proud to announce our support and partnership with the Antibes Lifeboat.
Talking to the crew of the lifeboat, one of the issues that kept coming up from them were visibility issues through their cabin windows especially in high sea/storm waters with salt water drying and s...treaking the glass. Zytexx agreed to treat the Antibes Lifeboat's forward cabin windows with our specialist Zytexx PG4300 Glass Treatment FREE of charge. We recognise the absolutely invaluable lifesaving work the ALB does and therefore it was a no brainer for us to give them our tried and tested Zytexx Glass Treatment applied by one of our expert technicians. The Antibes Lifeboat is a voluntary organisation, all the crew are volunteers and all their running costs etc is funded entirely through donations.
Latest News
Zytexx MYS - Launches a brand new product for Jacuzzis and pools at the show this year! Want to find out more?
Zytexx are excited to be at the Monaco Yacht Show again this year. If you would like to meet with us to discuss Zytexx Ceramic ClearCoat Products, then please contact us on +33 483 282 178 or email in...fo@zytexx.com: we can meet you at your boat, stall or at La Rascasse Bar for the Zytexx Cocktail Party. Our technical team and sales reps will be there throughout the show to discuss and explain all aspects of our products with you including: New Zytexx Hybrid PG4100 Cermamic ClearCoat & The Brand New Zytexx H2O for Jacuzzi and Pools We are also holding our Zytexx Cocktail Party at La Rascasse Bar Thur 29th 6pm - 9pm- by invitation only contact Michelle to confirm you invite and your appointment times
Latest News
Tried and Tested
For 10 years and on over 150 super yachts! No one else has our experience, reputation or warranty! When you're considering whether to Zytexx or not, one of the key features you should consider i...s the after sales service. Zytexx is renowned for its outstanding customer service and warranty. We have over 10 years of servicing the marine industry, our warranty for our Ceramic ClearCoat is for 2 years, so you have 5 x the history with us of providing excellent after care. Our reputation proceeds us: yachts and captains know that with Zytexx there are no quibles, we pride ourselves on our exceptional after care that's why we are confident no-one can compete with us. So ask yourself: what history do the company have that you are considering contracting? What customer service warranty do they have and how many years has it been in place? The fact is simple, anyone can sell you a product, but do they look after you if there are any problems and will they still be around in the next two years if you need your warranty?
Latest News
Antibes Office- A warm welcome!
Our office in Antibes is conveniently located in the Galerie du Port next to the Blue Lady Pub, so next time you're in Antibes pop in and say Hi to the Antibes team.. We'd be happy to answer... any questions, give you a brochure or simply have a chat!!!
Latest News
MONACO - coming soon!!!!
New administration offices will open shortly in the Principality of Monaco! Details to be revealed!
Latest News
Just to mention a few.........
Some of the fabulous yachts we've been working on recently. SY M5 • SY Athena • MY Thumper • MY Roma • MY Invictus • MY Fountainhead • MY Vibrant Curiosity •... MY Talisman C • MY Entourage • MY Spirit • MY Galaxy • MY Baton Rouge • MY Odessa II • My Irimari
Latest News
NEW HYBRID PG4400 CERAMIC CLEARCOAT! The NEXT Generation!
Exciting News! With over 10 years' experience, 3 generations of proprietary 'proven' products and over 150 Super Yachts treated! Zytexx is proud to introduce the Next Generation of ...PG4400 Ceramic ClearCoat! Is now available for the 2016 Med Season! What makes it even better than our previous version? Zytexx PG-4400 Hybrid Ceramic coating is a super hard clear-coat combining the hardness & stain free properties of advantages of ceramics with the flexibility and weather ability of organic esters. Our new hybrid ceramic coating can also be easily and inexpensively repaired with our Ceramic remover gel. • New generation UV stabilizers to maintain gloss. • Superior stain resistance • Better adhesion • Harder & more abrasion resistant • New generation UV filters to protect underlying paint
Latest News
Zytexx Coatings New Facebook Group!
To keep in touch with all the latest Zytexx news, find us on Facebook 'Zytexx Coatings International' https://www.facebook.com/groups/Zytexx/ All the latest boats, crew and team news w...ill be posted on our new fb page where we encourage you all to get involved and share interesting news, pics and info from the yachting industry.
Latest News
Press release by Charterworld for Marine Paint Protection and Marine Glass Protection
Another great press release on our marine paint protection and marine glass protection, this time by Charterworld. Displaying how well our products perform on vessels such as S/Y Athena. Thank you to ...Eva and Zuzana for your support and we look forward to working with you again soon!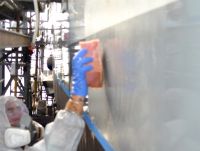 Latest News
Zytexx Removal Gel PG7100 - A Big Hit!
Our breakthrough Removal Gel PG7100 introduced in 2015 is proving such a hit that even the shipyard paint technicians are now working with the product without a glitch! Zytexx is now easily removed w...ith a simple swipe of a sponge, NO SANDING and leaves the original undamaged paint beneath. Perfect for paint repairs.
We're market leaders in producing innovative marine coatings for super yachts